Natural: the core value of Je bent mooi..!
Nature's power is prolific at Je bent mooi..!. Both in the hair care products and in the cutting techniques, whereby the premise is always to accentuate the natural beauty. At the salon we only work with brands that use pure, 100% natural ingredients. The products for home use are also pure and natural.
Optimum condition of the hair
Everything revolves around beautiful, shiny and healthy hair at my salon Je bent mooi..!. To get the hair in optimum condition and to keep it that way, I exclusively work with the natural brands JOICO, NATULIQUE and Mediceuticals. Based on your hair type I will gladly advise you on the brand that suits your needs and wishes best.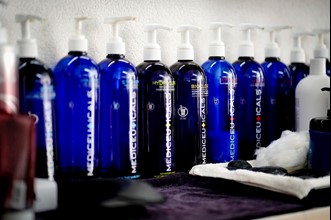 Hair type and scalp problems
In addition to your hair type I also look for any scalp problems. Do you suffer from hair loss, psoriasis or eczema? Is your hair thin and brittle due to alopecia, chemotherapy or pregnancy? With 100% safe and natural products we stimulate your hair growth and make your hair healthy again.
Long term
The three brands complement each other beautifully and consist of beautiful products for use both at the salon and at home. From shampoos, conditioners and facial masks to styling products and hair dye (only at the salon). All the products are skin friendly, do not contain soap and phosphates and are barely perfumed. Only then is beautiful, shiny and healthy hair guaranteed, in the longer term as well.
Make an appointment?
Are you curious about what hair care can mean for your hair? Make an appointment and call 020 - 681 65 09 or complete the contact form.
To avoid being charged, please cancel your appointment at least 24 hours in advance.
Annemiek van den Beld (42), Business Controller, Heiloo
"Almost ten years ago I saw a friend's post on Facebook raving about Je bent mooi..!. It was about Ronald's personal approach and that he looks what best suits someone's face. Since then I have been a loyal customer. Even now that I've moved away to Heiloo. I have my curly hair cut with the MCLEAN CURLSYS® technique twice a year. With this technique the hairstyle lasts a long time. As of recently I also have my hair coloured. Ronald looks carefully at what suits me and then advises me. At first he didn't agree with me wanting to colour my hair, because he actually felt my hair was greying beautifully naturally. And so he didn't do it. I admire that about him. The products he works with are as natural as he can get them. That is important to me. I like the salon very much and Ronald has a warm personality. He knows his customers, is genuinely interested and we always have riveting conversations. I once joked to him that he's just like a career coach. The small scale of the salon appeals to me greatly; there is never more than one other customer there at the same time as you. Every detail is taken care of. Even the music can be adapted to your personal preference. I always leave feeling very good and happy."