The team
My name is Ronald Julsing and I am the owner at Je bent mooi..!. Besides me the team at Je bent mooi..! is made up of my wife and co-owner Sari Soikkeli, Janine de Gram and Ysa Lode. Sari is the hostess with the mostess, making sure you want for nothing during your visit to the salon. While Ysa, Janine and I focus fully on you and your hair, Sari also takes care of the look and décor of the place.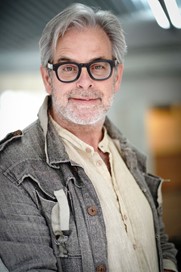 About me
I am of the hippie generation. I have traded in my long hair for a shorter hairstyle now, but I am familiar with the challenges that come with finding a good hairstyle and a good hairdresser. Growing up I tried out many hairdressers and many times my hair was ruined. So many times, in fact, that I decided I could do a better job of cutting hair than those hairdressers. It turned out I had the talent for it. I began with my own hair, my sisters' hair and that of friends. News of my side job travelled fast and pretty soon I was even receiving phone calls from people I'd never met. That was quite scary at first, but I did it and it went well. Besides, I enjoyed it! In fact, I enjoyed it so much that at 17 I decided to quit my technology studies.
When I was 18 I fulfilled my military service. Mine was the first generation of conscripts who were allowed to keep their hair long. It didn't take long for the men in the barracks to find me. I spent all my spare time cutting hair and my customer base kept growing. After my military service I hitchhiked my way around Europe, cutting hair as I went along. Those were wonderful days! With nothing more than an entrepreneurial diploma to my name, I decided to enrol at the hairdressing academy. That is where I learned all the classic techniques, including wash & set and working with rollers. I didn't feel at home there and I had a different vision on cutting hair. I wanted to cut hair in such a way that it would look as though someone never went to a hairdresser. My aim was to create a natural looking hairstyle that fit the person, kept its shape for a long time and required little maintenance. That vision combined with technical cutting is to this day the premise from which we work at Je bent mooi..!. Both for me and for Ysa and Janine.
Fun facts
I enjoy good food and am far from a picky eater. Just as I do with hair, I choose pure, fresh and natural food with no frills. Food is good when it is prepared with love, by passionate people.
Every spring Sari and I travel to Italy. We love the country, the superb food and the beautiful wines.
Finland is our destination in summer and Sari's country of origin. Nature, beauty and pureness are at the heart of this country. It is the perfect environment for us to recharge and gain new inspiration.
I am a born optimist and not susceptible to stress.
I don't easily find anything impossible. I see a challenge in everything.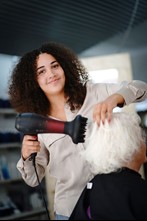 About Ysa
Ysa Lode (19) is studying at the ROC Hairdressing Academy in Amsterdam and has been a trainee at Je bent mooi..! since October 2016. She is at the salon on Tuesdays and Fridays. "My duties at the salon consist mainly of washing, colouring roots, blow-drying and serving customers tea and coffee. Every now and then I cut hair as well, but Ronald is still training me in this, because his cutting technique is different to what I learn in school. I have curls myself and my hair has regularly been ruined by other hairdressers. Ronald looks at how each hair sits and how it dries. Time is irrelevant. At other hairdressing salons usually 30 minutes is allotted for a haircut; at Je bent mooi..! no one is watching the clock. Since Ronald has started cutting my hair, it's perfect. I am also a big fan of the natural products that we work with at the salon, because I can see a real difference in the quality of my hair and that of the customers', the colouring and the end results. At the salon we help people and make them happy. To me that is the beauty of the hairdressing profession.
---
About Janine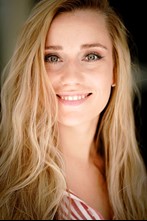 Janine de Gram (25) was a trainee at Je bent mooi..! for two years first and last year she became an employee. She works part-time on Wednesdays, Thursdays and Saturdays. Janine: "As a child I was always doing things with my hair and I did my friends' hair as well. Nevertheless I started off in a different direction, studying to be a teacher's aide. That didn't suit me though, so I decided to follow my heart and switched to the hairdressing academy. I love the hairdressing profession, making people happy and seeing the quick results. When I was looking for a traineeship, I looked up several salons online. Eventually I chose to train with Ronald, because the salon is very well presented, he works with natural products and he does makeup as well. What ultimately convinced me is the MCLEAN CURLSYS® cutting technique he applies. I very much want to learn that technique and there are not many salons that use it. In the future I hope to work fulltime and, who knows, work as an independent hairdresser at Je bent mooi..! by renting a chair, for example."